At Kennedy Space Center, NASA's Space Launch System is rolled out to Launch Pad 39B ahead of the Artemis 1 mission to the moon.
---
NASA's Artemis 1 moon mission is poised to launch a new era of U.S. lunar exploration this month. The mission will carry a lot of science payloads, and you can listen in on three teleconferences for free.
NASA's final press teleconference of the week will be at 12 p. EDT (1600 GMT) on Wednesday (Aug. 17). It will focus on radiation science NASA hopes to glean from the Artemis 1 mission.
The Orion spacecraft will include a radiation vest, plant experiments, and a cubesat that will grow yeast in space.
NASA's Johnson Space Center, German Aerospace Center, StemRad, Southwest Research Institute and NASA's Ames Research Center.
NASA will webcast live views of a Russian spacewalk on Wednesday from 9 a.m. EDT (1300 GMT).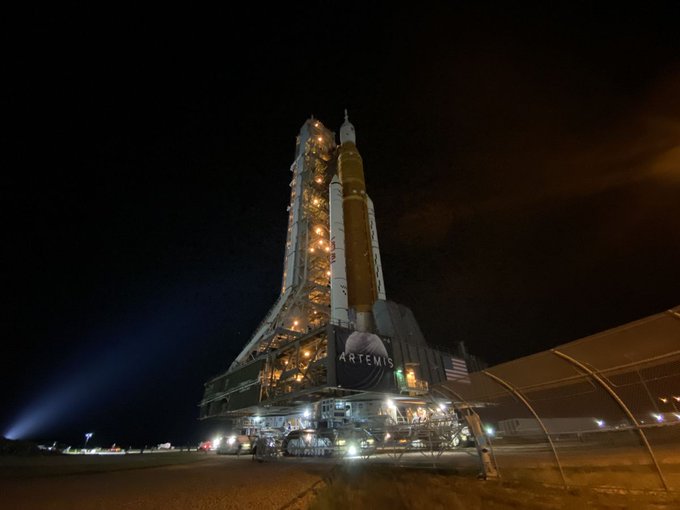 Artemis 1 rollout
NASA's webcast of the Artemis 1 rollout will begin at 10:45 a.m. EDT (1445 GMT) on Thursday, Aug. 18. A SpaceX Dragon cargo ship will depart the ISS on Thursday, Aug. 18.
NASA officials held a teleconference on Monday to highlight the lunar science payloads riding on Artemis I. The CubeSats will perform science and technology experiments in deep space.
At the briefing, NASA will introduce Jacob Bleacher, Craig Hardgrove, Tatsuaki Hashimoto, Ryu Funase, Ben Malphrus, and Joseph Shoer.
NASA's next briefing will be on Tuesday, Aug. 16, at 12 p.m. EDT (1600 GMT). Agency officials will discuss the technology demonstration and solar system science payloads riding aboard the mission.
NASA's cubesat will use high-definition cameras and advanced imaging software to record images of the ICPS and the Earth and moon.
NASA's NEOScout mission will launch with the Artemis I uncrewed test flight and will visit an asteroid called 2020 GE. It will use solar radiation for propulsion.
NASA aims to roll out the Space Launch System megarocket and Orion spacecraft to Launch Pad 39B on Tuesday (Aug. 16). The rollout will take several hours.
NASA's Artemis 1 rocket rollout is set for 9 p.m. EDT on Aug. 16 .